Septic Inspections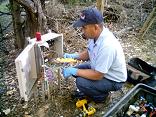 Do you want to buy a house with serious septic problems? Of course not!
You want a home with no surprises - toilets that flush, no sewage backing up inside your home, and nothing bubbling up in the yard, right? Getting a good septic system inspection may be the most important step you can take towards ensuring you will really enjoy your new home.
We are so confident in our inspections that we offer:
Report delivered on time, or FREE
Available 5 year warranty on our inspection
No obligation estimate of cost to correct anything found needing attention
Ask for details on these features - Exclusively from S.O.S.!

With superior training and actual hands-on experience on thousands of systems, our inspections are specifically designed to help identify areas of concern with your system, to help you avoid unnecessary expenses, and to help you protect the health and safety of your family, neighbors, pets, and the environment.

No one compares to the depth and breadth of our experience, training, and licensure.

When you want it done right, you want Snowden On-Site!
Licenses/Certifications:
Texas Licensed Professional Engineer: #65291
Texas Registered Engineering Firm: #7437
NEHA Certified Installer - Advanced Level
TCEQ Licensed Installer II; OS0005636 & OS0028074
TCEQ Registered Maintenance Provider: MP0000920, & MP0000921
TCEQ Registered Maintenance Technicians: MT000516, & MT001199
NAWT Certified Septic Inspector (multiple), and Certified Trainer.
NAWT Certified Vacuum Truck Technician, and Certified Trainer.
TCEQ Licensed Irrigator: LI0014230
TCEQ Water Treatment Specialist III: WT0004019
Field Services:
Residential and Commercial Systems
Service & Repairs - all Types, all Brands of Systems
Design and Permitting
Septic Tank Pumping & Cleaning
Service Plans & Maintenance Agreements
Recovery of Failing Septic Systems
Grinder Pump & Lift Station Repairs
EMERGENCY SERVICE, Saturdays, for our maintenance agreement and service plan customers only
When you want it done right, you want Snowden On-Site!