Septic Tank Diagram
A Septic System is a small wastewater treatment system designed to dispose of household, biological sanitary waste. Wastewater from the home flows into the septic tank who's primary purpose is to separate solids (which settle to the bottom of the tank as sludge) from the wastewater before they reach the drain (leach) field.

The lighter waste particles (such as hair or grease) form a type of scum which accumulates at the top of the tank until purged.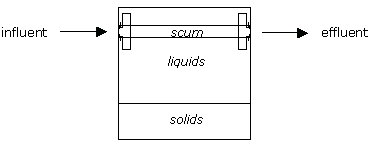 Septic tanks are normally full of liquid and waste all the time. Most septic tanks have three basic layers of waste, as shown in the diagram to the left.

Scum, which includes debris such as grease, settles at the top and floats on the liquid. Liquids will settle in the center, while heavier solids settle to the bottom.

As shown above, the influent and effluent pipes are designed so that their openings are in the area of the tank normally containing liquids - this helps to keep solids and scum from entering the septic drain field.
Previous Article : Septic Tank Replacement
- -
Next Article : Septic Tank Pumps